Can non US citizen play US lottery: Find out important information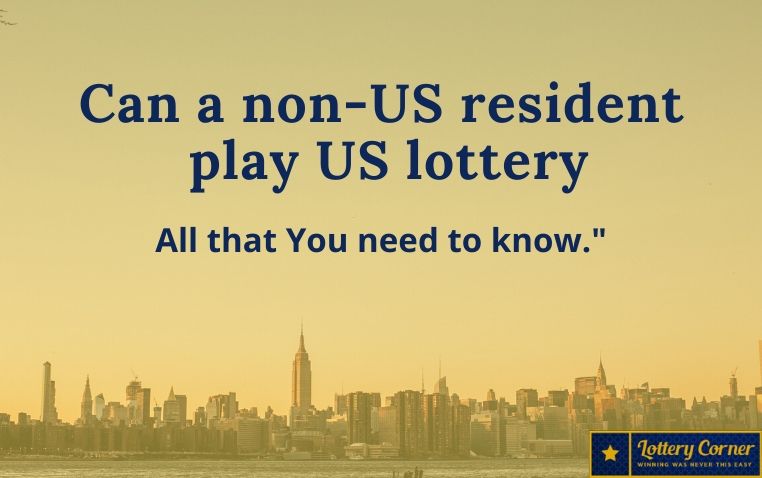 Living outside USA? or planning to move US? Are you wondering, how to test your luck in USA Lottery? Well, the lottery is a brilliant idea. Hang on, the most important question that comes in
your mind is: can non-US citizens play the lottery?
You'll be happy to find out that taking part in American lotteries is available to everybody. You don't need to be an American resident to play Powerball or take a risk on winning Mega Millions. Americans might feel somewhat unlucky when lottery prizes worth millions of dollars are won by outsiders however there are positively enough prizes to go around for everyone, including Americans and non-Americans. Consider one of the biggest lotteries of US history, which occurred in January 2016. The prize was an amazing $1.58 billion and it was shared by three fortunate players. An interesting aspect is one of the players won a $1 million second division prize. What's more, he wasn't from the US! US Powerball victors can for sure be outsiders!
What if you're an Illegal Immigrant, can you still win a US Lottery?
Since there are no residency limitations about who can enter US lotteries, unlawful immigrants can purchase tickets and can claim their rewards. However, claiming the lottery prize might cause an illicit immigrant to feel defenseless against expelling. So, you'll get your lottery prize, but you might also be sent back to your home country.
During that point, you need to choose the right people to trust. Single bad decision or judgment can deprive you of the prize money as well as US land. For instance, in 2011 Jose Antonio Cua-Toc won a $750,000 lottery and was reluctant to claiming his prize since he didn't have legitimate residency status. At the point when he approached his supervisor to receive it for him, the supervisor took the cash for himself. And he was unable to do anything legally because he had to come out and in that case, he would be sent back to his home country.
Is it allowed to Play American Lotteries Online from another country?
Truly it is! As the authority Powerball site states "If you legitimately buy a Powerball ticket, you can play the game and you can gather prizes. You don't need to be a U.S resident to play the game. Players from everywhere throughout the world can win the greatest American lottery big prizes!
You can get US lottery tickets by clicking on Buy Tickets Now, win the Powerball and the Mega Millions of lotteries, and increase your assets regardless of what your U.S living arrangement status is. While there is an age limitation (you must be in any event 18 to play), you can purchase tickets in any state which offers the lottery regardless of whether you are not a United States resident, or you don't live in the state selling the ticket, or regardless of whether you don't live in the U.S by any means. The same laws and rules apply to Florida.
Stories for motivation
Baghdad occupant M.M. had been playing lotteries online for just a brief timeframe when he bought tickets to the Oregon Megabucks lottery. In a game-changing day that occurred in August 2015, the Iraqi was the sole champ of the lottery's $6.4 million. This story was so mind-blowing, so novel, that it was accounted for in the worldwide media again and again. Regarded news sources, for example, the New York Times, the Daily Mail, and the Associated Press all prominent that it was splendidly legitimate for outsiders to win American lottery prizes by buying official tickets online.
The second story is also incredible. H.V. is a 73-year-old beneficiary from El Salvador in Central America. He has numerous grandkids, and even three grandkids, some of whom live in California. For a considerable length of time, they've desired simply to visit their grandkids in America. After H. won $1 million in the Powerball, he got the resources to make his dreams come true!
At last, you've got the answers to your questions such as can a foreigner play Florida lottery or if you're an Illegal Immigrant, can you still win a US Lottery. Now, this is the time to start!