No one win Powerball Jackpot on Wed-Julu29th-2020. Here are the Powerball winning numbers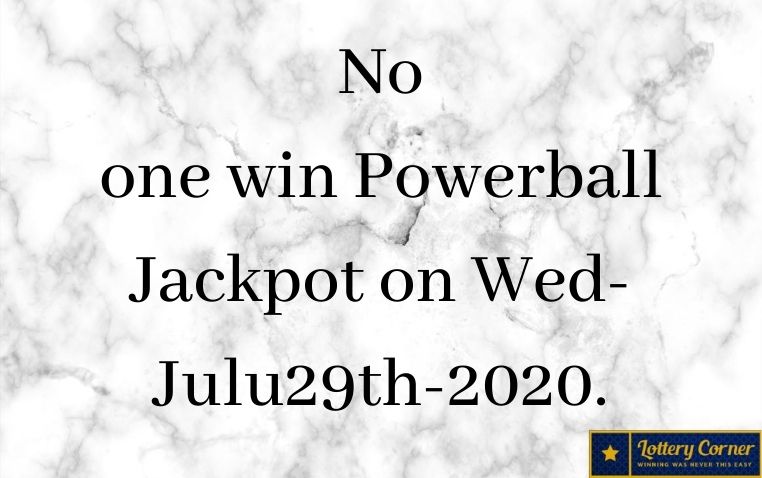 Powerball
Date: Wed, Jul 29, 2020
Winning Numbers: 7-29-35-40-45-26-Power Ball
PowerPlay-2X
Jackpot: $126 Million
The Powerball jackpot keeps growing because there wasn't any winner in Wed-July 29-2020 of the $126 million Jackpot.
The next Saturday, 1 August 2020, Time at 10:59 PM Jackpot?$137 million in prize money with a $112.7 million cash option.
Powerball Homepage for analysis of lottery numbers and payout data. Jackpot analysis visits Powerball Homepage to pick out your next Powerball numbers, use the HOT, Cold, and overdue numbers analysis. Or you can relay our intelligent selections generated after a comprehensive analysis.
The Next Powerball Tickets can be purchased from our website by clicking "Purchase Tickets Now."
Date: Jul 25, 2020
Winning Numbers: 5-21-36-61-62-18-Power Ball
PowerPlay-2X
Jackpot: $117 Million
Can I be certain that I will receive my LottoSmile Powerball Prize?
LottoSmile has a well-established reputation as a fully secured service and is one of the market leaders in the online lottery. You can rest assured that our platform is safe and that we offer absolute transparency regarding the cost of US Powerball tickets and the claim procedure for the prizes.You get 100% of your winnings when you buy your American Powerball ticket on LottoSmile. You are the official owner of the ticket, and we can generate the winner on your behalf. If you win, the prize is awarded in full, free of charge. The only amount that is taken from your prize is the tax deducted from the source.
What is the Multiplier for Power Play?
You can also add a multiplier to your ticket when you play Powerball online from India. The Power Play can increase the value of secondary awards by 2, 3, 4, 5, or even 10 times, depending on the number drawn and the amount of the jackpot. Only when the jackpot is less than $150 million is added to the mix.
What is the value of a Powerball?
How. How. The price per play of Powerball ? is $2. Choose five numbers for white balls from 1 to 69; then choose one for red Powerball from 1 to 26. Select your play slip numbers or let the lottery terminal choose your number randomly.
Also Read || Powerball results for Wed-July22-2020, did anyone win the $106 million Powerball jackpot?