On July3rd, 2020 nobody is gaining Mega Million Jackpot. Here are the numbers for Mega Millions.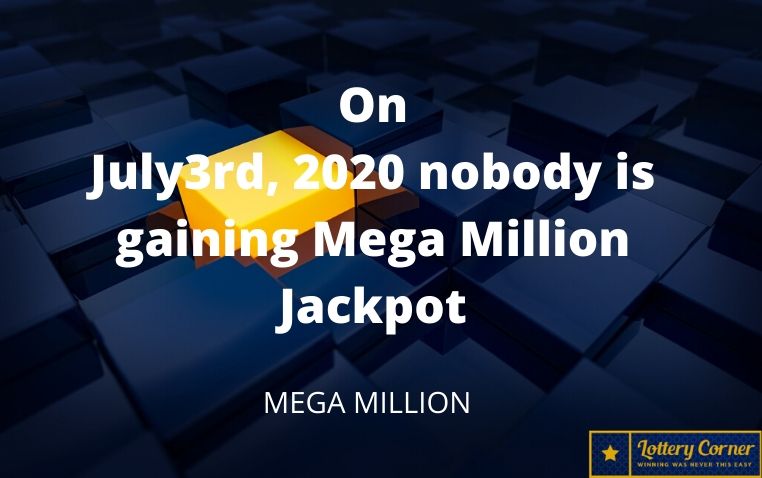 Mega Millions
Date: Fri, Jul 03, 2020
Winning Numbers-20-40-44-45-50-24-Mega Ball
Megaplier-2X
Jackpot: $62 Million
There were no winners at the $62 million jackpot to be played on Friday, 3rd July 2020. The Mega Million Jackpot was growing further.
Thus, Time 11:00 PM will have the $73 million prize, with the $57.2 million cash option, in the next award on Tuesday, 7th July 2020.
Jackpot analysis is available on Mega Million Home Page for analysis of lottery numbers and payout details. To collect your next Mega Million numbers, use the analysis of HOT, Cold, and overdue numbers. Or, after a thorough analysis, you can relay the Smart Picks generated.
To purchase Next Mega Million Drawing Ticket, click on the Buy Tickets page.
Previous winners
Date: June30th
Winning Numbers: 9-16-29-37-53-11-MegaBall
Megaplier-2X
Jackpot: $53 Million
How about the jackpot-winning?
The Mega million annuity is paid in one instant payment, and 29 annual payments are payable. Annuity option every amount is 5% larger than the last sum. In periods of inflation, this helps protect the lifestyle of the winners.
Refer to the Annuity Option for more information.
Cash option: One-time payment for the lump sum equivalent to all cash in the jackpot prize pool of Mega Millions.
Only the Reward
Here some states, just the jackpot, is a special offer. Jackpot players will like this exciting new kind of wager to only play for the prize. The player receives only two jackpot plays for $3. Single tickets from the jackpot are not eligible for other awards. For this option, see the Lottery in your jurisdiction (links can be found on our Where to Play page).
Megaplier
Most states offer megapliers for 2, 3, 4, or 5 times higher non-jackpot prizes; an extra $1 is charged. The Megaplier is drawn before every Mega Million draws on Tuesday and Friday nights. Of a pool of 15 balls, 5 have 2x marks, 6 are marked by 3x, 3 are denoted by 4x, and one by 5X. For each megaplier number and its associated price values, this mix is followed by the
Also Read || Winner! Winner! Winner ... winner Twinsburg Mega Millions ticket sold $1 million