Powerball numbers for July8th, 2020; jackpot increases to $79 million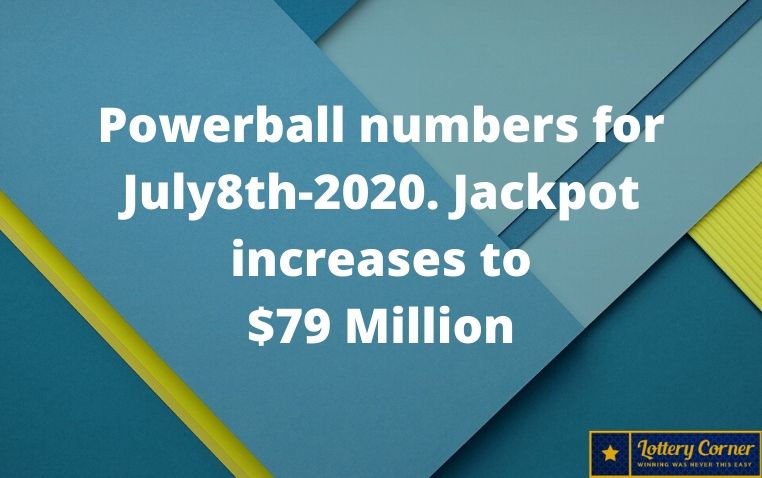 Powerball
Date: Wed, Jul 08, 2020
Winning Numbers: 3-10-34-36-62-5-Power Ball
PowerPlay-10X
Jackpot: $69 Million
The Powerball jackpot is still growing as the $69 million prize pot was not won on Wednesday, 8 July 2020.
So, Saturday, 11 July, the next drawing. 2020 Time 10:59 PM will have $79 million in jackpot value with a 63 million dollar cash option.
Jackpot analysis visits Powerball Home page for analyzing power ball lottery numbers, payout details. To choose your next Powerball numbers, use HOT, Cold, and overdue numbers analyses. Or, after a thorough analysis, you can relay our Smart Picks.
Click "Now buy tickets" on our Powerball page to purchase the following Powerball tickets from your home's comfort.
Previous Winners:
Jul 04, 2020
Winning Numbers: 16-21-27-60-61-6-Power Ball
PowerPlay-2X
Jackpot: $60 Million
Are you sure that your odds are correct?
Most players believe that the odds are 1 in 26 when the Powerball matches to win a win because the number field is 1-26 when the Powerball is drawn.
But keep that in mind….
Powerball alone can match better than 1 in 26, as you can have one or more white balls in addition to Powerball.
Powerball numbers can be deriving from two numbers so that the chances of receiving a prize can compute by combining the possibilities for both numbers for all prize levels. The opportunities to match only Powerball can be calculated by combining the chances to select the Powerball and the luck not to choose one of the five numbers from the first set of drawn numbers.
Also Read|| Jackpot worth $356 million live mega millions results for 02/06/2020: Tuesday